New Book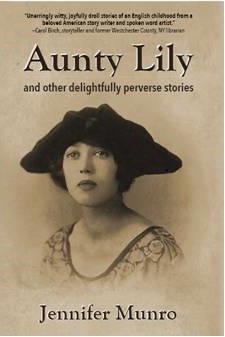 Jennifer is thrilled to announce that her first collection of original stories will be published in June of 2016 by Parkhurst Brothers. Aunty Lily and Other Delightfully Perverse Stories contains moving tales of family, loss, love, and the trials of growing up in a scrappy working class neighborhood where kids play in the streets, fair play rules most of the time, and bullies are occasionally vanquished.
Order from Amazon.com
Storytelling
Jennifer recently performed three new stories at the Connecticut Storytelling Festival and Conference at Connecticut College in New London. All three stories, "Read My Lips," "A Real Friend," and "Paying Homage" are stories of which she is particularly proud – and all three can be found in her book Aunty Lily.
The first, is a funny story that catalogues the hilarious adventures of all the pets her family managed to cram in their suburban home; however, it really tells the story of her husband Eric's transformation as he adapts to the zoo in which he finds himself. "A Real Friend" is a story from Jennifer's childhood in which she confronts the realities of social class and the subtleties of discrimination which restrict but do not prevent two girls from recognizing a friendship that could have been. "Paying Homage" as the title suggests pays homage to the old people who so often find themselves lost and sometimes forgotten as they suffer the effects of aging and dementia.
Currently, she is creating a story of funny and touching Christmas memories, and learning "The Fisher King," a story where myth and reality collide.
Theater
Even though she can barely carry a tune, Jennifer has appeared in several productions of Madison Lyric Stage. She applies the same intensity to her acting adventures as she does to storytelling. More at Theater.
Storytelling and Education
Jennifer is also conducting a series of storytelling workshops for the Hempsted Houses in New London, Connecticut. Working with docents from the houses and also individuals from the community, Jennifer is sharing storytelling techniques and helping participants tell dynamic historical or personal stories around the themes of justice, freedom, and courage. This important work is made possible by a grant from the Connecticut Storytelling Center.
Having recently retired from a successful career teaching middle school English, Jennifer is continuing her role as an educator. She teaches a graduate class, Storytelling in Education, at Sacred Heart University, which she loves. What a joy to be able to share two of her passions: storytelling and teaching, and to be able to awaken young teachers to the power of not only telling stories to children but also encouraging their students to become storytellers.